Montreal Greeting Cards - Folded Cards
Usually ship out within 5-6 business days
A professionally printed, personalized greeting cards or invitations can be more meaningful and attractive to the recipient than any store-bought cards. They are fun and easy to produce and are very affordable through online printing.
Ideas for
Invitations
Thank you cards
Holiday cards
Christmas cards
Birthday cards
Response cards
Menus
and much more...
Envelopes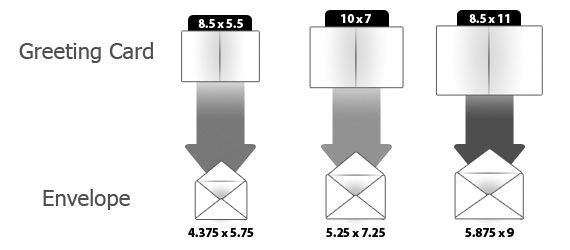 Greeting Cards Details
Special Instructions

Greeting cards are scored in the centre and shipped flat.

Material

95 Bright 14pt Gloss C2S

Coating

Matte Coating or High Glossy UV

Color

Full color CMYK: 1 sided (4/0), or 2 sided (4/4)

Sizes (inch)

10"x7", 8.5"x11", 8.5"x5.5"

Finishing

Cut to size, score and box. Envelopes are optional.

Cut-off time11:00 AM Eastern Standard Time
Orders later than this time will begin production next business day.
Turnaround

5-6 business days

Please note that all turnaround times are production times that do not include shipping time. Shipping time depends on destination as well as method of delivery. Turnaround times are based on estimates. Unforeseen technical issues may result in delays in production time.

Turnaround times begin once your order has been successfully submitted and artwork has been preflighted OK. Certain products will not begin production until we receive approval of electronic proof.
Artworks Setup
File Type:

Print Ready PDF file

Resolution:

300 DPI

Design Color:

CMYK

Bleed:

0.125" total bleed (0.0625" for each side)
Template Download
Use our artwork setup guides to ensure your PDF will print properly.
Click a size to download the guide.
Notice:
Turnaround is based on Business Days (exclude Weekend and Holiday)
We do not guarantee color matching.
We reserve the right to cancel your order and refund your payment.
We do not accept refund when your order has been processed.
We ship to Canada only, Prices are in Canadian Dollars. Taxes and shipping are extra.
Privacy Policy:
We do not store your credit card details, all transfer of your payment information, including credit card handling are used Paypal, we believe that it is safe to provide your credit card information over the Internet.
We do not share your personal information with anyone, including your photos, name, email address, phone no, shipping address, design and all the information of you. The information you enter, send or upload is used to generate your printing projects only.
If you use the "Contact Us" form or send us an email and include your email address, we will use it to respond to your request.
We are located in Montreal, our services extend to the following provinces/cities across Canada and more: Quebec | Ontario | British Columbia | Alberta | Manitoba | Saskatchewan | Nova Scotia | New Brunswick | Newfoundland | Prince Edward Island | Northwest Territories | Yukon | Nunavut | Toronto | Mississauga | Quebec City | Vancouver | Surrey | Calgary | Edmonton | Winnipeg | La Broquerie | Saskatoon | Regina | Halifax | Cape Breton | Saint John | Moncton | St. John's | Paradise | Charlottetown | Summerside | Ottawa | Brampton | Hamilton | Laval | London | Markham | Vaughan | Gatineau | Longueuil | Burnaby